Tray filling asphalt fissures
TECHNICAL CHARACTERISTICS
Asphalt sparger tray of 30 liters of capacity with own heating.

TRAY
Constructed of steel plate of cylindrical form with flat mall pillow, it covers in which is a mixer crank for asphalt. The unloading is made by gravity by means of a valve commanded from the handle-bar of the frame.

FRAME
The constructed frame of steel plate, fold. It has support you maintain of gas cylinder.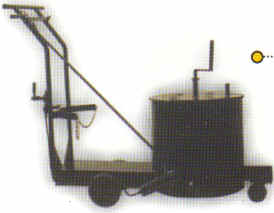 ASPHALT TRAY SPARGER
Mounted on axis with wheel.
HEATING SYSTEM
Gas burner with its corresponding hose and regulating pressure gauge with indicating clock.