CHASSIS
Of welded normal profiles electrically, three-wheel type, with tubular front spar, frame of independent motor with over turns and lateral anti vandalism.
MOTOR
Diesel type 4 times, 3 cylinders, cooled by water, direct electrical starting, alternator 12V 3A, oil filter of replacable element, dry air cleaner of replacable element with indicator of obstruction state, replacable, decantador oil water gas filter for fuel, battery 12V 110 fuel Amp., tank with level.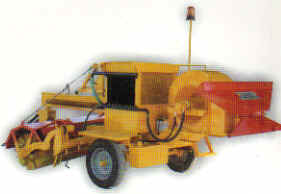 TRANSMISSION
Hydraulic type with double gear pump driven by means of bank of valves for the following operations: tumbling of brush, tumbling of ventilator centrifuge and the brush east. The circuit is protege by filter of aspiration type mechanical magneto and filter of return type changeable, radiating cartridge of oil lubricated in the front part of the motor, hydraulic oil tank of 75 liters of capacity and measurer of hydraulic oil level.
ROLLING TRAIN
Three tires (3) 600×16, 6 fabrics, mounted on printed rim of steel, axes with conical bearings; direction in front wheel and sends articulated of 1500 mm long tubular type, peak altitude of end to the ground of 1500mm.
BRUSH
Of 600mm of diameter and 2400mm of length, constructed with straw piazaba or plastic hair and of rotating operation on sealed incoming bearings car, driven by means of orbital hydraulic motor and final control to strap, everything mounted on revolving support of regulation 30º towards both sides respect to the transverse axis, raises action by means of hydraulic cylinder, pressure of adjustable work by means of screw endless and covered of designed protector in order to avoid that the material projects upwards.
BLOWER
Centrifugal ventilator mounted on bearings car trims, capacity of 120 m3/min. and revolving outlet pipe 45º towards both sides, length of opening 1700 and grooves adjustable of 0 to 50mm, driven by means of hydraulic gear motor.
ELECTRICAL SYSTEM
The unit is given with instruments of motor for control of oil pressure, temperature of refrigeration water, ammeter, counts hour, counted returns of motor, light of load, stops electrical and starting key. Prescribed back lights for transport and beacon of signaling.