TECHNICAL CHARACTERISTICS
Equipment very useful for heating of asphalt, 500 to 1.000 liters of capacity .
TANK FUSOR
Constructed in steel plate of ovoid form semi, with flat mall pillows. Iron hinge covers with folded edges to avoid the water entrance. The material unloading is made by gravity, by means of a step key that allows the exit of the material.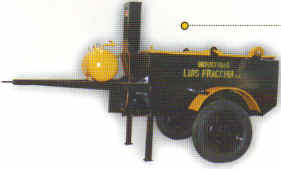 FRAME
The frame or chassis is constructed with steel profiles. The equipment has two located supports type by telescope adjustable to parking. In the front part it takes a lance of tow with enlistment.

HEATING SYSTEM
Integra with a burner to gas or kerosén regulated with manual valve to needle and valve of cut of fuel of average return, completing with a metallic tank for fuel, provided with a pump of manual pressure with safety valve to means, measurement of temperature of the material, faucet of venteo .
OUTER SHELL
Constructed in welded steel plate electrically. Shell is divided in an inferior camera had with refractory brick to maintain the temperature and a superior camera of heating.
ROLLING
It has a steel axis in which one mounted the two maces of wheels with elliptical conical and elastic bearings semi.
ACCESSORIES
Key is provided with fuel tank and needle opens tip.
From 500 to 1.000 liters
Burner to gas or kerosén
Manual Stirrer
Pumping for manual primer