Asphalt emulsion fixed plant
The manufacture plant
The following diagram shows the manufacture procedure for a bitumen emulsion requiring the presence of a certain number of specific materials.
Depending on the storage capacity and the type of raw materials used, a prior declaration or request for authorization for plant construction must be made in accordance with the legislation on classified industries.
Plant facilities
An emulsion manufacture plant should include the following facilities: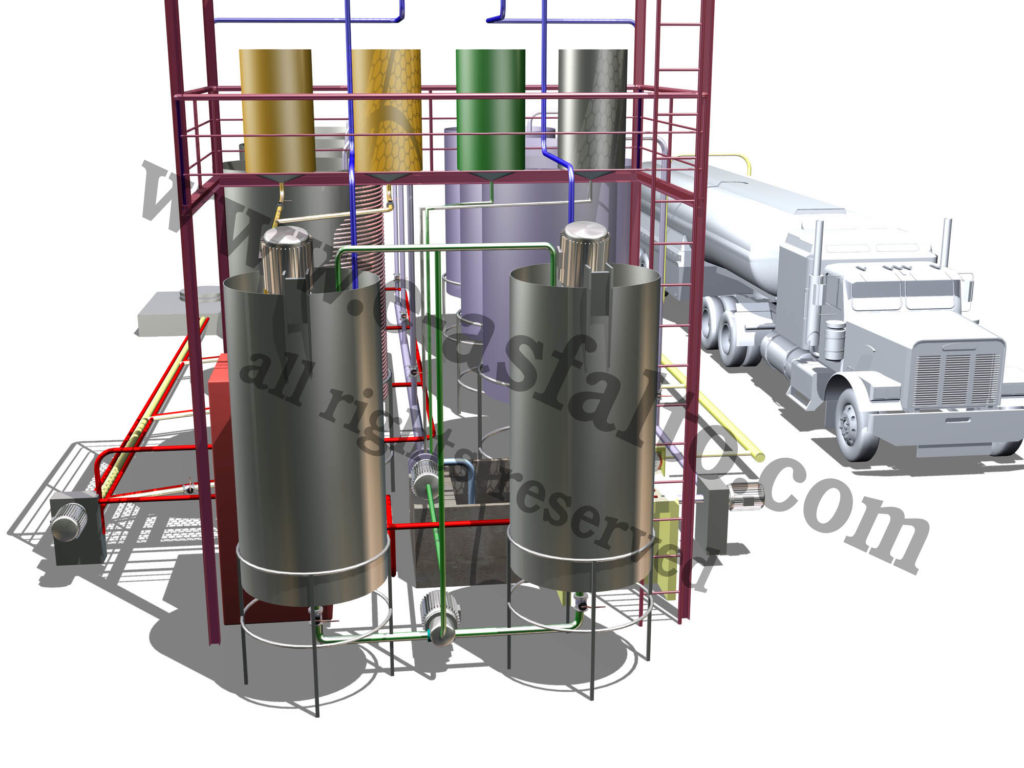 * Raw material reception and storage facilities
* Heat sources to hold or heat to operating temperature raw materials, piping, manufacture plant, pumps and manufactured emulsions.
* Manufacture installations.
* Finished product storage.
* Bulk or drum emulsion loading installations.
* Delivered product weighing facility.
* Inspection laboratory.
Raw material reception and storage
Bitumens
The emulsions to be manufactured in the plant may be made from bitumens of different penetration grades. The number of storage tanks required must allow for this range of bitumens. The most commonly used bitumens in emulsions have a 180/220 penetration.
Bitumen may be received through a pipeline (if the plant is close to a refinery or a bitumen depot), tanker boats or rail car or road tanker. Usually, bitumen is transported to the emulsion production plant by heavily heat-insulated load tankers.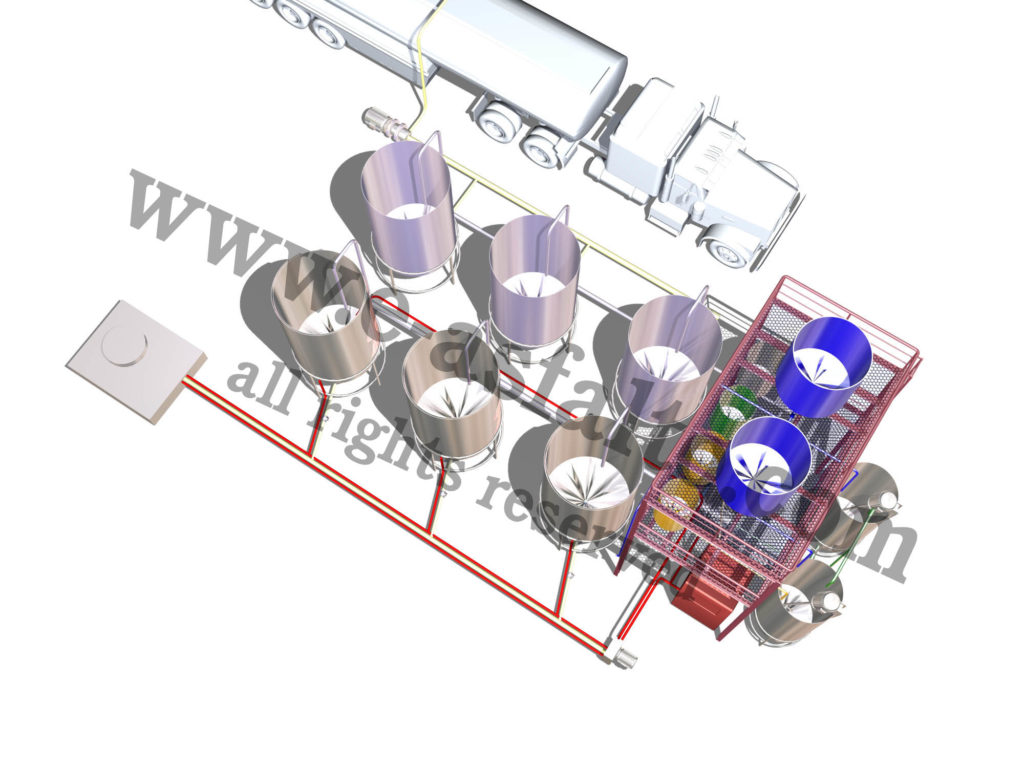 The plant is provided with:
* an unloading installation with high-capacity pumps.
* bitumen storage tanks. These tanks are generally cylindrical, installed vertically or horizontally, and made of metal, with a capacity corresponding to the unit delivery quantities and to the distance from the supply source and to production capacity.
These tanks are carefully heat lagged and must be fitted with heating facilities (hot oil or vapour coils). They are connected to the manufacture plant by heat-lagged piping which may be self-heated. For safety reasons, these tanks are installed inside sealed catchment tanks.
Fluxes and diluents
These products are stored like the bitumens. However, depending on the type of product, heat lagging and heating equipment for the tanks and pipelines may not be necessary.
Emulsifiers
Acid
The acid is supplied to the plant in drums or in bulk. In the latter case the plant must have its own storage tank of an appropriate capacity, manufactured from corrosionresisting material and installed in a sealed enclosure. The reception equipment and the transfer equipment from the tank to the manufacture plant are designed, installed and maintained to take into account the risks involved when handling acid.
Emulsifiers
More often than not emulsifiers are liquid or semi-solid at ambient temperature (some are solid). Emulsifiers are supplied to the plant in containers, drums bags or bulk.
Water
The water used in the emulsions may be from various sources: public network, wells, etc. If the supply flowrate is low it is necessary to provide intermediate storage of sufficient capacity to satisfy the instantaneous requirements of the manufacture plant. This tank is sometimes fitted with a heating system.
Heating facility
Bitumen is practically solid at ambient temperature and to be conveyed, then emulsified, it has to be maintained or heated to liquid state. Also, the water used in the emulsion must be added at above ambient temperature and therefore a heat source is necessary. For many years, steam was used for heating but now the range of heating facilities has widely extended: currently used heating facilities are:
* steam,
* heat-exchange oil,
* electricity (heating rods).
These heat transmission facilities use one of the following available energies:
* Fuel Oil
* Gas
* Electricity